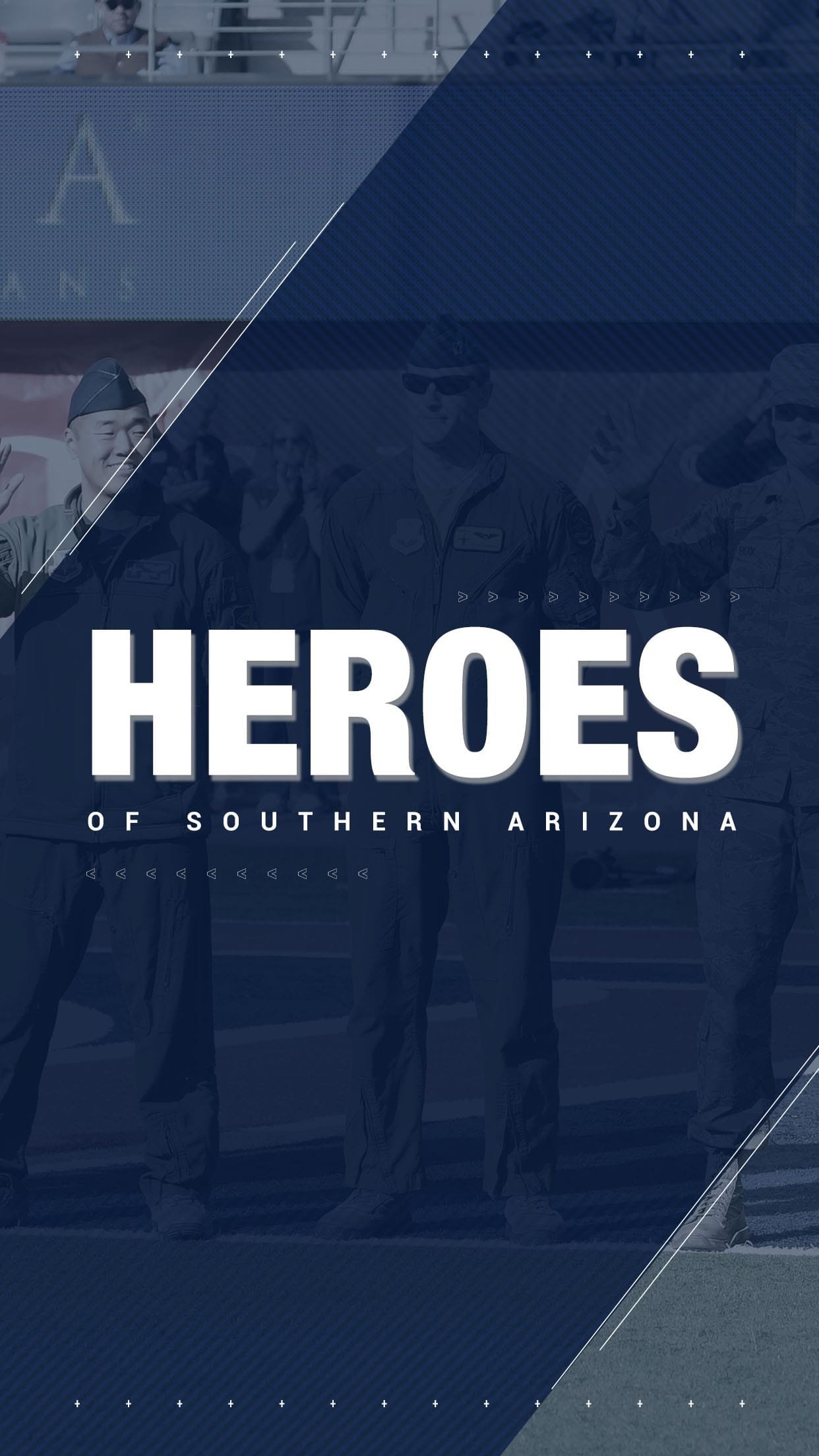 The Heroes Tribute Program at the Barstool Sports Arizona Bowl will be recognizing
Heroes of Southern Arizona each month during 2020.
The Heroes Tribute Program at the Barstool Sports Arizona Bowl will be recognizing
Heroes of Southern Arizona each month during 2020.
ANDY SKAGGS
Tucson Fire Captain
Captain Skaggs is committed to helping others which includes going to great lengths to support a fellow firefighter struggling with substance abuse.? He went out of his way to help by providing transportation, scheduling counseling, taking them out for physical training and never ending words of encouragement.? Andy noticed a person struggling & helped them to get on the road to a full recovery.? Andy believes that it is more important than ever to help your fellow firefighters rise above daily challenges with life.? He also serves on the Barstool Sports Arizona Bowl Committee & gives back to his community in many ways.? Andy is a true Hero in the Tucson community.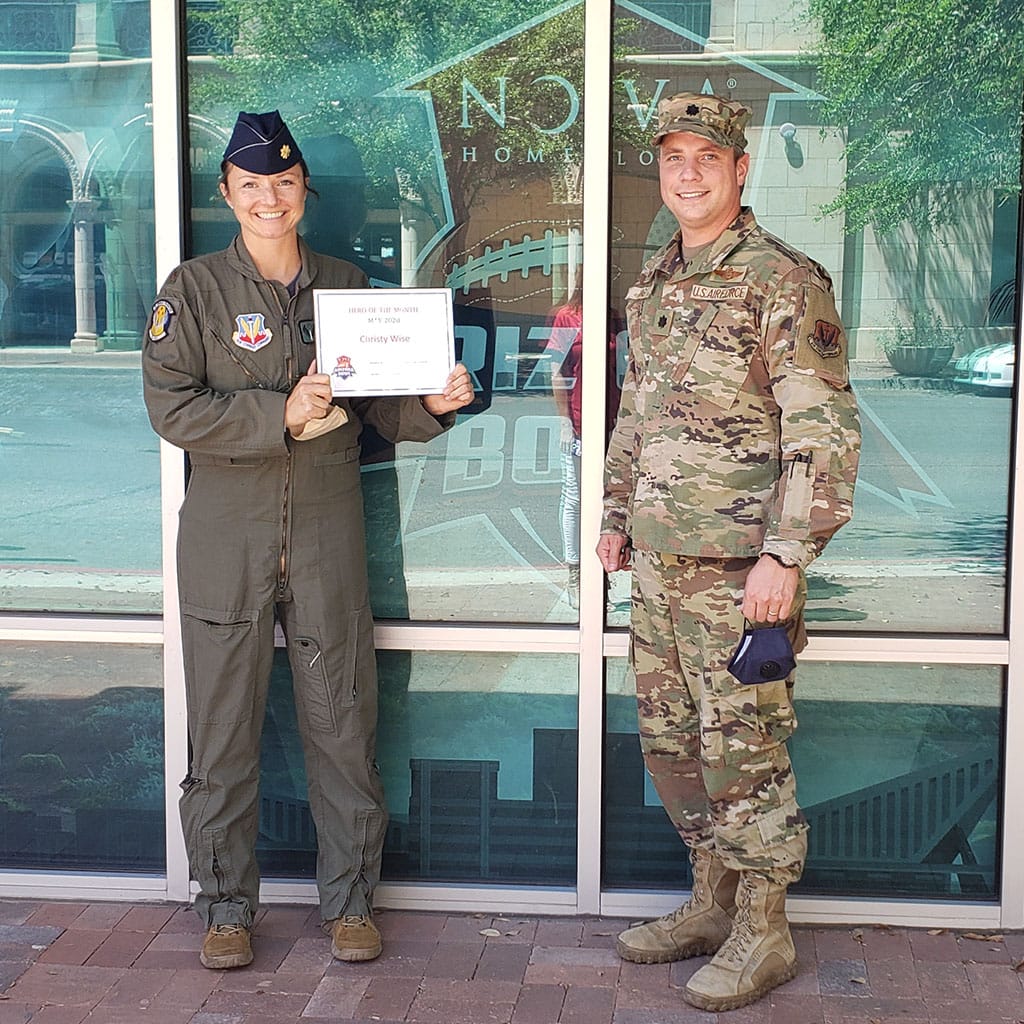 CHRISTY WISE
Major, United States Air Force
Christy Wise was born in Reno, Nevada and grew up with a twin sister and younger brother, spending all their time skiing and playing sports. For college, Christy attended the United States Air Force Academy where she ski raced and played club softball. In 2009, she commissioned as an officer in the United States Air Force and in 2011, she received her pilot wings to fly the HC-130. She spent the next couple years stationed in Valdosta Georgia, and deployed to Afghanistan and Italy.
On April 11, 2015 Christy was visiting her friends for the weekend in Destin, Florida and she was on her paddleboard in a protected cove behind her friends? house when she was struck by a hit-and-run boat driver. Although Christy?s life was miraculously saved, she lost her right leg above the knee in the incident.
Christy was determined not to let this change her life so she fought to stay in the Air Force and continue flying. She became the 6th Air Force pilot (and first female) to return to flying after an amputation. Along the way she won 11 medals in the DOD Warrior Games and competed in two international Invictus Games. Humbled by all the support she received since the first night in the hospital, Christy and her twin sister Jessica started a non-profit, One Leg Up On Life, that provides prosthetic limbs to patients in Haiti.
Christy?s courage and determination to continue her Air Force career while also using her experience to help others exemplifies tremendous resiliency and strength of character.
CYNTHIA CATALFALMO
Systems Installation Coordinator for Tucson Unified School District
Cynthia Catalfalmo won?t seem like a hero in the typical sense of the word. However, she has been the critical person responsible for coordinating the deployment of thousands of laptop computers throughout Tucson Unified School District. Her hard work and dedication has ensured that the students in TUSD have been able to check out disinfected, properly imaged laptops. This allows these students, who do not have access to laptops in their homes, the ability to continue their education through remote learning.
Cynthia literally, overnight, swung into action a team of technicians, and school office staff. She led them into action to ensure equitable access to education for the students in Tucson Unified School District. She has been worked numerous hours, over the weeks, and her work still continues, as TUSD continues to distribute laptops to students to those who need it.
It is for this reason, that I nominate Cynthia Catalfalmo as a Hero of the Month.
SERGEANT JACK WOOLRIDGE
Investigative Sergeant for Robbery Unit - TPD
Sergeant Wooldridge has been a member of the Tucson Police Department for thirty-four years. He has developed the reputation of having exceptional work ethic, while providing excellent service throughout his career. This undoubtedly has evoked merit not only to himself but the department and the community he serves. His positive attitude, resolve, and enthusiasm for addressing violent offenders in our community have never wavered.
Sgt. Woolridge is responsive to the needs and concerns of our community and business partners. He is diligent in preventing and solving robberies in the City. This year, he was recognized as the 88-CRIME Sergeant of the Year and because of his leadership, his entire unit was awarded Hero of the Year by 88-CRIME.
Always putting others ahead, he has a 501C3 Public Safety Charitable Foundation which awards scholarships to children of fallen officers. He attends Honor Flight events and was formally recognized for his dedicated service in 2017 for volunteering his time at the 7th Annual Fallen Officer Hite Memorial 5k Family Fun Run.? Sgt. Woolridge has also devoted his time by helping other foundations such as Kick Cancer for Stephen and Kent?s Heart and Hope.
Sgt. Woolridge is a worthy Hero of the Month.
JEREMY ESTRADA RN-BSN, CEN (Disabled AF Veteran)
Emergency Department Nurse ? VA Southern Arizona
Jeremy Estrada joined the Air Force at 19 years of age as a Southern Arizona native. During his service he became a medic, and through that experience while in service with our armed forces, he utilized the opportunity to become an RN. While on active duty, he earned his degree cum laude at Texas A&M program catered to military medics, working 12 hour medic shifts, and raising a family. He deployed to Afghanistan, where he developed asthma and respiratory/pulmonary deficiency from the burn pits. As a disabled veteran, Jeremy returned to Tucson with his family, and currently serves as a Charge Nurse in the Emergency Department at the VA of Southern Arizona on the front lines of the COVID-19 Pandemic. He works to triage and screen incoming patients, with COVID, and COVID-like symptoms. Jeremy does this with the danger of possible effects of the virus due to his respiratory and pulmonary deficiency developed while on active duty. Thus, placing himself at possible risk for the health of our community. Jeremy is the embodiment of Southern Arizona spirit, and a hero to our community serving veterans as a disabled veteran, on the front lines in healthcare during this pandemic.